SOUL CONNECTIONS HOME | PREVIOUS PAGE | NEXT PAGE
Vittal G. Tambre
Visitors to the Bangalore ashram during the birthday function were likely to have been approached by Mr. Vittal Tambre. He would be passing out flyers in the meditation hall during Swamiji's darshan after the evening bhajans. Mr. Tambre was inviting devotees to the pada puja and mass feeding that his family conducted at their home every year on January 26, which Swamiji always attended.
Hundreds and hundreds of devotees and complete strangers came for darshan and a full meal. The Bangalore bhajan group played, people danced in bhava samadhi, the family washed Swamiji's feet, and people lined up to be fed in rows sitting on the flat, concrete roof of the house.
Mr. Tambre and his sons owned a gentleman's tailoring shop on M.G. Road. When Swamiji wanted to make gifts of clothes to devotees, he asked Vittal. He was a warm, unassuming and generous man, enthusiastic and completely trusting in Swamiji. He and his wife, Sundaravai, considered Swamiji to be Shiva himself, sakshadkar (manifest) Shiva.
Mr. Tambre was not raised in a particularly religious environment. He didn't do any puja (worship). He was not devotional. He was not spiritual at all. He would go to work and come home. That was it. One day, a friend, Judge Ramaswamy, inquired about his health and Vittal complained that he was not well. The judge took Vittal to Shivabalayogi. This was the fourth day after Shivabalayogi established the original Bangalore ashram on Bannergatta road, which was on August 7, 1963.
Vittal had some healing and peace going to the ashram. He felt a power pulling him towards Swamiji. When he got home, he told all the members of his house. At that time, he was living with his extended family of mother, brother, sister and their respective children. Vittal took them to the ashram to see Swamiji. His wife kept asking him to take her to met Swamiji, but it was some time before he finally took her. From then onwards she often wanted to see Swamiji. They just used to go to the ashram, sit and meditate for a while, take blessings along with vibhuti (blessed ash) and return home. They became closer to Swamiji.
Mr. and Mrs. Vittal also used to take all the children in the house, some twenty of them, to see Swamiji. With his own hand, Swamiji would apply vibhuti on the bhrikuti (third eye) of all these children. In those days, Swamiji used to do that with all the people who visited the ashram. But when Vittal and Sundaravai got home, they would be scolded. "What's there for them? Why do they go there? What do they get out of it?" But they never had any thought of whether they were doing good or bad, or whether they would get a good result out of it. They never bothered about that. All that they knew was that they were going to God.
Every night Swamiji would wait for them. People would tell him, "Swamiji, it's already nine o'clock and we should be closing the doors." (In those early years, the ashram was quite remote and there was always the danger of thieves and thugs, especially at night.) The other devotees were ready to leave, but Swamiji would tell them to wait. He would say, "No, Vittal's military is going to come now."
Vittal always had a wish to invite Swamiji to his house and make a small function. He had no idea how to prepare for such a function, nor had he fixed a day to bring Swamiji. Whenever the family fixed a date, someone or something got in the way so idea had to be canceled. When he told this to Swamiji, he said, "Don't worry. The time will come and I shall come to your house one day." They had faith in his words, consoled themselves, and looked forward to that day.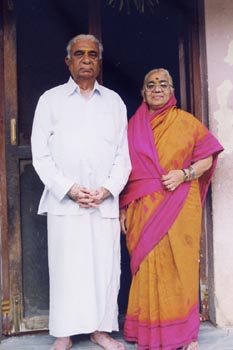 By 1971, the extended family separated and Vittal's wife and children moved to their own house. Swamiji promised Vittal that he would come to their house before leaving to Dehradun, but only for five minutes. On hearing that, the family was extremely happy. But some of the other devotees said, "Vittal, your house is too old. Swamiji may not come." Vittal worried a lot, but his wife reassured him. She had full faith in Swamiji and his words.
At last that day arrived and they all were eagerly awaiting for Swamiji's arrival. Swamiji arrived along with Mataji and other devotees. At that moment, as Vittal and Sundaravai explained me, "We had no words to express our feelings. We felt as if we were in paradise. We did not know the proper customs of puja but still we somehow managed. We just washed his feet. He then gave darshan and blessings with vibhuti to all the devotees. When I presented the money which was given to Swamiji by the devotees, he refused it. Swamiji asked me to take an oath saying that we shall call Swamiji every year and make a public function with a mass feeding. Finally we chose January 26th so that it would be convenient for the public to come." [Republic Day, which is a holiday in India.]
"Swamiji actually said that he would stay only for five minutes but it was our luck that Swamiji stayed in our house for one hour."
After the first pada puja in their home, any time the Tambres invited Swamiji to their house, he would come. The family set aside a bedroom for him, and to this day that room is used only for Shivabalayogi.
The Tambre family has maintained Vittal's promise to annually host Swamiji's pada puja and provide a public mass feeding. With Swamiji in mahasamadhi, they had a silver statue made and they perform the puja to Shivabalayogi in that form. Vittal Tambre passed away last year, and the family tradition continues.