SOUL CONNECTIONS HOME | PREVIOUS PAGE | NEXT PAGE
Shivabalayogi at the Sambhar Lake ashram. Mr. Ghai is standing to the right of Swamiji, his hand on Swamiji's arm.
K. L. Ghai
Krishan Lal Ghai was the primary force for establishing the fourth ashram dedicated to Shivabalayogi, the ashram in Sambhar Lake, Rajastan, which Shivabalayogi dedicated on August 7th, 1966. Only Adivarapupeta, Dodballapur and Bannergatta Road were established earlier.
Mr. Ghai is well known and well respected among Swamiji's devotees, as this short summary should help explain.
Late 1960 or very early 1961, Ghai was working for the government salt company in Sambhar Lake where Mr. B.S. Lamba was the general manager. Ghai was coming home from the meat shop and met two people who worked with him. They were going to Lamba's house. Ghai asked one of them, "Did you take permission of him for you to go there? Do you have an appointment?" One of them said that he had, the other that he hadn't. "Well, if one of you has not gotten permission, then I can also go without permission." So Ghai went along with the other two.
He had a packet of meat in his hand. He gave it to the orderly who was standing by the gate, then went inside to see Lamba. As soon as he went inside, Lamba placed his hands on their heads. Immediately the power was transferred to them. Of the three people, two of them, including Ghai, received a lot of power. The other one was not very interested so he didn't receive much power.
When we interviewed Ghai, I had to ask some follow up questions about what he experienced. He said that when Lamba put his hand on his head, he (Ghai) saw light, a shakti (power) coming inside his body. He felt as if a ball of fire entered his body from Lamba's hand and went from his head to his heart. Two or three times Lord Krishna appeared to Ghai. He also had darshan of Lord Rama.
It was there, at Lamba's house, that Ghai saw a picture of Swamiji and was introduced into this line. Lamba asked him to do some meditation. That same day, Ghai decided he would eat the meat he had already bought, but after he would stop eating meat. He also decided to stop going to see movies regularly. He had gotten into the habit of going often and he wanted to stop that. He started doing some meditation at home, and he started going to Lamba's house every Sunday.
Soon after his first experience at Lamba's house, Ghai felt a constant current inside that made him chant bhajans. Even in the office he would continuously chant, "Hare Rama, Hare Krishna" at a low volume. At home he used to sing bhajans so loudly he could be heard a half a mile away. His father was so disturbed by this behavior that he told Ghai (who was about 32 at the time) not to come to his house at all. Even Ghai's wife objected to what was happening because he would be chanting God's name all the time.
As Ghai explained to us, "I love kirtan. All that is the effect of bhava. It stopped my going to the movies. It stopped my eating meat. I am doing the chanting all the time. All this was because of that."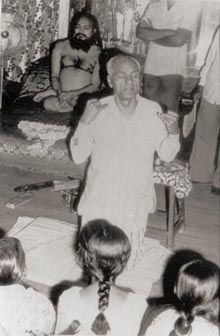 Ghai developed a desire to go and see Swamiji in Adivarapupeta. Lamba gave him the address and asked him to go to Kakinada and meet the deputy superintendent of the salt department there, Mr. Naidu, who was one of Swamiji's ashram committee members. From there he was guided to Adivarapupeta where he had Swamiji's darshan. This was in 1961, not long after Swamiji completed his twelve-year tapas.
As Ghai explained it, "Swamiji wanted to know the capacity up to which I could hold. The power started in dhyan, upwards. It has gone up to the throat area when I fell down. I could not control it. So Swamiji could understand that I could have control up to this point." Ghai said that it felt like a current that filled up his entire body as far as his throat. After that he fell down in front of Swamiji. Swamiji did not touch him. Then Swamiji lifted him up, and that too with his power and not with his hands. Nobody touched him.
Ghai stayed there for two or three days. Swamiji asked him meditate outside the Dhyana Mandir. In his meditation, he saw Lord Shankara. Swamiji said that even then, Swamiji's power was spreading all over the world.
That year, 1961, and the next, Ghai visited Adivarapupeta two more times, taking his wife with him. When he returned to Sambhar Lake from the third trip, he found himself automatically giving spiritual messages. He told his wife that if anyone was interested to listen, they could come to their house and listen. People started to come. They were all very astonished how a man who did not know the "A, B, C" of devotion had developed so much.
The Shivabalayogi ashram in Sambhar Lake, Rajastan.
Below: Mrs. Ghai and Mr. Ghai at the ashram, 1996.
"The discourses are spiritual messages. They are about the knowledge of God and the duties of human beings. They come from a prompting inside the body. The dialogue is Swamiji's. I simply have to repeat something that is familiar as if I had rehearsed it many times. Like an actor, there is someone behind the stage prompting me with the dialogue so I don't forget what I have to say. But in this case the prompting is from inside me and it happens automatically. This is the shakti (power). There comes a time when I know the discourse is over and I have to stop. I have enough time to finish a sentence, or if there is something important to say, then it can go for five or ten minutes more. Then it will stop."
Often times the messages were very direct, scolding people for their misconduct, and confronting them with facts that Ghai would have no way of knowing. "Swamiji would tell them, 'You should not do this.' This was how Swamiji changed the minds of people. Whatever was said in trance was the truth. Swamiji used to correctly point out the mistakes. He would not hesitate to point out a mistake. If you have done something, he would publicly and openly tell you that you have done this mistake. Swamiji would not hesitate to shout at anyone."
Sometimes people got blessings through Ghai. He would be made to put his hand on their heads. He would be aware that his hand was being put on the head of some devotee, but he was not the one to decide or do it. That was being done by Swamiji. From Ghai's perspective, it was automatic. Swamiji would chose certain devotees and it was Swamiji who blessed them. In this way many people received physical cures and mental peace.
"We decided to have bhajans-kirtan on Friday nights, just like in Adivarapupeta. We had regular k
irtan in the hall from eight-thirty to ten-thirty and we would get a spiritual message. Several ladies used to go into bhava. They did not even have darshan of Swamiji yet they got bhava. But there were objections and people's devotion was not up to standard. People were coming only for the bhajans and they were not doing meditation. The bhava just stopped. This also happened at other ashrams. Wherever there was support for this kind of trance, it continued, and where there was no support, like in this ashram, it stopped.
When I am in bhava during the bhajans, I am Lord Krishna at that time. I feel so happy that I want to break the glass case to be closer to the Krishna idol. [The ashram in Sambhar Lake has a four-foot statue of Krishna protected in a glass case.] I feel like hugging Krishna. Sometimes I go into Radha-Krishna bhava. I have to be careful about who I take as Radha. I used to act with my own wife as if she were Radha. I had so much love for her while I was in bhava. Whichever bhajan was going on, that trance came: Radha, Krishna, Shiva, and others."
Mr. Ghai is now retired. "I usually sit for meditation in the morning. I want to continue my meditation for more than two hours, but I have to conduct programs. In the evening I usually do meditation for four hours. That also I have to break because my wife complains that I am sitting for too long, or a devotee comes and I should talk with them. Otherwise I can meditate for at least six hours. Sometimes, I pray to Swamiji or Krishna to free me from this trouble. It is in their hands."