SOUL CONNECTIONS HOME | PREVIOUS PAGE | NEXT PAGE
OM SHIVA by Azul
A Shivabalayogi Anthem in the Northwest
An American Bhajan
During Swamiji's first visits to Portland and Seattle, Azul started singing a song that he wrote, Om Shiva. He would pick up his guitar and start playing and singing. The melody and words were simple. Sometimes after evening darshan and Swamiji had retired, we didn't want to leave the mood. Sometimes we just felt the mood. Azul would reach for his guitar and we would sing.
Azul led Om Shiva at the public programs. In Portland, they sang it as an arthi, the final song in praise of the guru. Seattle and Portland devotees often visited each other. When Azul visited Seattle, we made him lead Om Shiva. We sang it before and after pada puja, worshipping Swamiji's feet. It became a Pacific Northwest Shivabalayogi anthem of sorts.
Azul recorded Om Shiva in 1989. Swamiji was there in the studio. Mixed and mastered, orchestrated and augmented, it became an American Bhajan. Released as a cassette tape, it got lots of play time during those years when Swamiji was visiting the West.
There are many in Portland and Seattle who have powerful associations with Om Shiva. But as good as the studio recording is, the song was even more powerful when we sang it together.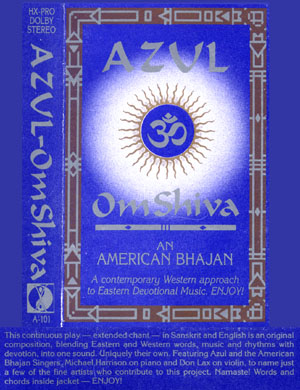 You can download the complete recording of Om Shiva HERE. There is no charge.
"Polly and I were driving Swamiji while he was in Portland for the past couple of visits. This year, we rented a car. We decorated the area inside the back window with flowers and scattered flowers all about the car. Swamiji always sat on the same side of the back seat. His interpreter Jagadish sat on the other side."
"After Swamiji left for Seattle, Polly and I cleaned out the car. Suddenly she said, 'Come here! Look at this.' I went over and looked at the flowers behind the back seat. Underneath them on Swamiji's side was a white substance that looked exactly like vibhuti. It was only on the side where Swamiji sat. On the other side were the same flowers but no white substance. The white substance looked like it had been burnt into the material. It was as if the flowers had left their imprint in the material itself, perfectly, with all the stems and petals."
"Some time earlier I had found a similar substance on the inside of a box of printed labels that go in the cassette I produced and dedicated to Swamiji, Om Shiva. When I opened the box it had all this white powder all over it. This made us look at the ash beneath the flowers that much more carefully."
"A week later we traveled to where Swamiji was, and both of us went up to him. Polly really pushed him for an explanation. He said, 'Don't worry, don't worry.' "
"She said, 'I'm not worried. Tell me what it was.' "
"Finally Swamiji said, 'Put it on your forehead and meditate well.' "
SOUL CONNECTIONS HOME | PREVIOUS PAGE | NEXT PAGE