SOUL CONNECTIONS HOME | PREVIOUS PAGE | NEXT PAGE
Nagendra Swami
Rajmata Rewati Devi
Rajmata Rewati Devi was the niece of one of the lesser kings of the hill country near Patiala in North India. She became one of youngest of the many wives of the King of Patiala, Maharaj Bhoopendra Singh, who at the time was one of the richest men in India. Her early life was given to living in a harem and being attractive. She had clothes and comfort, and that was the purpose for her life.
The Maharaj died at age forty-seven and Rewati Devi became widowed while still a very young woman. She along with the Maharaja's many other wives received a comfortable settlement from the estate, and Rewati Devi and her sister, who had also married the Maharaj, each bought a house in Dehradun and moved there.
Rewati Devi was a lively person, and although she never had her own children, she was a great favorite with her step-daughters, full of life and fun. The various related families would get together often, and it was through her step-daughter, Maharani Kailash Kumari Devi of Patna (Swamiji called her Mataji), that Rewati Devi came to know of Shivabalayogi. Mataji used to speak to Rewati Devi about Swamiji in such glowing terms that she felt greatly attracted toward him. When Swamiji visited Dehradun in the month of June, 1966, Rewati Devi went for his darshan and received initiation into dhyana meditation. Thereafter she went for darshan daily and sat for meditation in Swamiji's presence.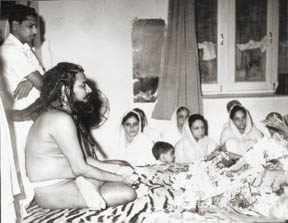 This widowed lady in her forties became changed. She had a bright glow and was full of light. She was full of Swamiji. Dressed in the white saree of a widow, she became childlike in front of Swamiji. She sat in front of him and vied for his attention. One day she got Nagendra bhava, the trance of the cobra that Shiva wears around his neck. Day by day she grew more beautiful and peaceful. The bhava became continuous, twenty-four hours a day. She grew more powerful, all the time smiling, all the time happy, and all the time wanting to do things for Swami, so much so that she became an impediment. She would prevent normal routine work from taking place because she wanted to do it.
Meanwhile, she continued her spiritual practice. With that meditation and with that bhava becoming more and more powerful, one could feel an exceptional aura around her. The Rajmata was keen to pursue spiritual practices seriously, so Swamiji initiated her into tapas in November of 1966. From then on she came to be known by the name of Nagendra Swami.
Her continuous Nagendra bhava soon developed a power to read the mind and thoughts of any person who came before her. Rewati Devi was a simple woman, and she was frank and candid. Because she remained constantly under the influence of this bhava, she could not control or restrain her speech. Whenever she met someone, the power of her intuition made her speak out whatever she saw about that person's character, habits, thoughts or activities. This soon became extremely embarrassing for the people concerned, particularly for her relatives. She would publicly blurt out some of their most personal and closely guarded secrets, including many unsavory private affairs. Therefore, to hide their own exposure and embarrassment they spread word around that the Rajmata had become mentally deranged.
Anandamayi Ma (1896-1981) the great saint of East Bengal.
On one occasion, some of Nagendra Swami's relatives asked Anandamayi Ma to cure Nagendra Swami of her seeming aberration. Anandamayi Ma agreed to visit her, but as she got down from her car, one of Swamiji's devotees got Nataraja bhava and drew a line across the entrance to the house. By this act an invisible barrier was created that Anandamayi Ma was unwilling or unable to cross. As she could not enter the house she called out to Nagendra Swami to come outside.
Nagendra Swami replied that she was in Nagendra bhava and was unable to get up from her seat. She told Anandamayi Ma, "You are known as Jagat Mata (Mother of the World). If truly you are Jagat Mata, then why don't you come in and take me out of the Nagendra bhava?" But Anandamayi Ma remained where she was, unable to enter the house much less remove the Nagendra Swami's bhava. Finding herself powerless to intervene, and recognizing that there was no need to interfere in the work of a yogi, Anandamayi Ma returned to her own ashram.
The following year, when Swamiji came to Dehradun again, he was informed about the power that Nagendra Swami had developed and the embarrassment she was causing people. Swamiji directed Nagendra Swami to observe silence (mouna). After a year or so Swamiji permitted Nagendra Swami to speak again, but Nagendra Swami found the observation of silence so beneficial to her sadhana that she decided to continue it indefinitely.
When Swamiji initiated Nagendra Swami into tapas he prescribed a rigorous schedule of sadhana for her. By following these directions and as a result of her sadhana she became totally transformed. She had been known and feared for her quick temper and sharp tongue but now she was surrounded by an aura of peace. Those who had known her earlier could hardly recognize the former Rajmata in the saintly and affectionate Nagendra Swami.
Her spiritual development progressed well and she was well on her way to complete the prescribed twelve years tapas when tragedy struck. On the morning of the 9th of January, 1975, Nagendra Swami was murdered by an unknown assailant. Swamiji had just returned from a tour of Sri Lanka and was in Bangalore when this sad and shocking information was relayed to him.
There was a police investigation, but the murderer was never found. Some thought it was the work of acquaintances who wanted to control Nagendra Swami's property. To others, the murder appeared to be the work of some demented or mentally deranged person because it was unthinkable that anyone in his right senses would murder an old lady who had become universally recognized as a saint. The crime remains unsolved to this day.
Family members complained to Swamiji that the murderer should be brought to justice, but he assured them, "That is not in your hands. God will see to it and Swami will see to it. These are inexorable laws of nature. They will be dealt with. You are not to worry. You are not to do anything. And in any case, why are you bothered? Nagendra is back and has taken a new birth. So why are you bothered about it?"
Two or three years after Nagendra Swami's death, Swamiji was in Dehradun when suddenly he told the devotees around him, "Nagendra is coming. Go out and wait for her. Nagendra is coming." Everybody was taken aback. They had no idea what was happening.
A mother came in holding a huge, fat infant girl in her arms. It was Shruti. Her mother was a tiny little thing who could barely hold on to the child, but she was holding on and coming along with her husband. Swamiji was very happy that morning.
The mother explained that the little girl had been taken to a hospital where the doctors declared her dead. Suddenly, the child started breathing again, and that's the time, Swamiji explained, that Nagendra Swami entered the body of the child who had died. The mother said, "They told me she was dead, but I would not believe. Yet she was lying there dead." Some five minutes later, the child started breathing again and the doctors told the mother she was alive. The mother didn't know that was Nagendra Swami. All she knew was that her daughter was alive. The child got better and the mother took her home. Some time later, the father heard about Swamiji, so he with his wife, son and little Shruti came for Swamiji's darshan.
All the devotees were happy, and Swamiji was happy. Shruti was put onto Swami's lap and she was playing with Swami, hugging him and he was playing with her.
Swamiji made arrangements for Shruti to spend a lot of time at Mataji's house in Dehradun. He asked the family to look after Shruti and keep in touch with her. Shruti's parents believed what Swamiji said about the prior life of their little girl, but her father was killed and her mother got Shruti married and now she has a family.