SOUL CONNECTIONS HOME | PREVIOUS PAGE | NEXT PAGE
Ken & Faith Rose with Shivabalayogi in Wales, U.K., July 1988. Swamiji asked for the photo to be taken the morning Ken & Faith left for the U.S. to organize Swamiji's first tour there.
That same morning Swamiji gave them a photo to use for publicity, the one on the right. This black & white photo appeared in every flyer for every Shivabalayogi program in the U.S.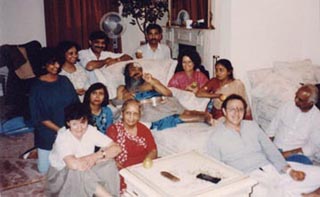 From the top: London and Laguna Beach, 1990,
Seattle, 1989, and Portland 1991
Hosting Swamiji
After Shivabalayogi consecrated the Brahma Vishnu Maheshwara temple in the Bangalore ashram on August 7, 1987, he said that his work in India was completed and it was time for him to go abroad. At the time, there were no plans to travel abroad. Within two months, he was flying to London.
The following year, when Swamiji had returned to England, two Americans traveled with him from India, Ken and Faith (Elisha) Rose. In London, Swamiji asked Ken and Faith to organize programs in the United States. Within two months, Shivabalayogi was in America. From 1988 to 1981, Swamiji gave public meditation and bhajans programs in the Pacific Northwest, California, the Southwest, the Midwest, New York, New England, North Carolina and Virginia. He stayed in Raleigh, Boston, Santa Fe, Portland (Oregon), Santa Barbara, Boulder, Columbus (Indiana), New York, to name a few.
In each place one or a few people of all kinds of spiritual backgrounds volunteered to take the responsibility to host Swamiji and his interpreter, pay for a portion of their travel expenses, provide a place to stay, and organize and advertise public programs. It was a lot of work.
They donated and raised money, booked halls, cleaned rooms, bought food and supplies, negotiated dates, placed advertisements, put together mailings, set up halls, bought flowers and made garlands, arranged for Swamiji's transportation and food, cleaned up halls, and served devotees. While others were engaged in talking with Swamiji, they were making tea and preparing food for the devotees.
The hosts did not get reserved front-row seats. They were expected to serve the devotees. Hosts did not get special parties with Swamiji. He expected even private gatherings to be open to other devotees. He once explained that he was like a diamond. If we tried to keep Swamiji in our pocket, he would wear and cut his way out.
Many, many people were enthusiastic when Swamiji was visiting and many signed up to volunteer for the next visit. But when it came to make preparations for the next visit, it seemed like only the same handful came through. Anyone who has organized programs knows the work involved, and anyone who has had to rely on volunteers knows the frustration.
As the time approached for Swamiji's arrival, the intensity only increased. We wanted to spend long hours with Swamiji, as much as we could. But it was obvious that Swamiji also needed rest. His travel schedule was grueling, but he would not allow us to schedule rest days. He insisted upon a public program every night. People came asking for private darshan and they had to be turned away. Sometimes they complained that the hosts were trying to keep Swamiji for themselves. There were all sorts of dramas.
Swamiji's stay and his programs always worked out more wonderfully than anyone could have planned or anticipated. It was after Swamiji left that we realized how physically exhausted and spiritually elated we were. That was when we realized that, despite our best efforts, it was Swamiji's power that had carried us through it all.
The greatness of Swamiji's tapas was not the twenty-three hours a day he meditated in samadhi. It was the one hour when he suffered and yet still resumed his meditation. In the same way, the greatness of all those who volunteered to host Swamiji was their decision and commitment to do it.
Here is what Swamiji had to say to the hosts in Seattle:
"The lady who washed the feet of Christ with her tears [Mary Magdalene], she is alive through all time, forever. Her name is still remembered by all the people. In that town where Jesus was at the time, nobody cared for him. It was only this lady who did service to Christ by washing his feet. It again was the same way when Jesus was about to die. She was just some unknown lady and see how important she has become and how much respect she gets. The rest of the city does not receive any respect now. They lost respect, but this lady is still remembered for her service."
"It is not a small thing. It is a big thing. You now have done a lot of service to a lot of people. There are many people here. It is a big thing."
Swamiji said that he went nowhere without the instructions of his divine guru, and that those who came to him had a soul connection with Swamiji. Necessarily, all those who helped host Swamiji have close soul connections with him, and Lord Shiva instructed Shivabalayogi to go to those places and people. If we are connected to him, then there are connections among us.