ABOUT Spiritual Ministration │ PRINTER FRIENDLY PDF
PREVIOUS CHAPTER │ NEXT CHAPTER
Shri Shri Shri Shivabalayogi Maharaj Life & Spiritual Ministration
1.
The Early Years

Cover Preface
3 Tapas of the Four Directions
Download printer-friendly PDF of Spiritual Ministrations
Spiritual Ministration is now published as an
E-BOOK
through Handloom Publishing at Lulu.com
Birth Chart of Sri Sri Sri Shivabalayogi Maharaj
Date of Birth 24th Jan 1935
Place of Birth Adivarapupeta, West Godavari (Andhra Pradesh)
Time of Birth 2:45 P.M. (IST)
Draksharam is a small village in the East Godavari District of Andhra Pradesh. Though little more than a hamlet today, it has an interesting history. According to local legend, Draksharam was known in the past as Dakshawati and was reputed to be the place where Raja Daksha held his great 'Yagna' (sacrifice according to Vedic rites): it was during this 'Yagna' that his daughter Dakshayani or Sati, the consort of Lord Siva, immolated herself when her father slighted Mahadev, her husband. Local tradition also maintains that the great Sage Vyasa performed Tapas and attained Sidhi at Draksharam. The presiding deity of Draksharam is Bhimeshwar Mahadev, manifested in the form of a 'Svayambhu Lingam' (self evolved stone emblem of Siva) known as the Bhimeshwar Lingam. This Lingam is located amidst peaceful surroundings in a shady grove comprising of a Banyan tree and some Margosa trees. It is this Bhimeshwar lingam which inspired the great devotional outpourings of the renowned Telugu poet, Srinath.
A little more than a kilometer away from Draksharam, nestling among groves of Palmyra and Coconut palms, is the quiet little hamlet of Adivarapupeta. A small canal, known locally as the Godavari Canal, flows along the outskirts of this hamlet. In order to reach Adivarapupeta, one has to travel on the Madras-Howarah railway line up to Raja Mahindram (Raja Mundhry); from here, one has to travel by bus to Draksharam a distance of approximately 45 kilometers; from Draksharam one can hire a taxi, or a rickshaw, or simply walk down. From the direction of Howrah, one has to detrain at Samalkotta railway station and from here take a bus to Draksharam, via Kakinada; the distance from Samalkotta to Draksharam is also about 45 km.
Parentage
The inhabitants of Adivarapupeta belong predominantly to the Devanga community, whose principal vocation is the weaving of cloth, primarily dhoties and sarees, and marketing this produce in the nearby towns and villages. Some three decades ago, there lived at Adivarapupeta a man named Alakka Bheemanna who, like the majority of his follow villagers, belonged to the Devanga Community; his wife was Shravanamma, who belonged to the village of Bandarulanka, which is located at a distance of approximately 20 km. from Adivarapupeta. As the couple did not have any children, Bheemanna, with the consent of Shravanamma, decided to marry again. His second wife was Parvathamma, daughter of Goli Sathyam, who belonged to his own village of Adivarapupeta.
Birth
In due course, Parvathamma bore for her husband two daughters and two sons. The youngest of these four children, a boy, who was born on the 24th January, 1935 was named Sathyaraju by his parents. This boy later became renowned as Sri Sri Sri Sivabalayogi Maharaj. When Sathyaraju was two years old, Shravanamma, the first wife, who was still childless, got the approval of her husband and of Parvathamma to be allowed to rear Sathyaraju as her own son.
Passing Away of Bheemanna
Bheemanna often used to tell Parvathamma that their younger son, Sathyaraju, was destined to make a great name for himself, and that he would bring great honour to the family, but that he (Bheemanna) would not live to see it. And so it came to pass. In the month of July 1937, when Sathyaraju was barely two and a half years old, his father Bheemanna passed away. The two widowed wives separated and returned to their respective parental homes.
Sravanamma left for her native village Bandarulanka, and Parvathamma went to live with her father Goli Sathyam. As Sathyaraju was too young to be separated from his mother, Shravanamma left him with Parvathamma for the time being. Later, when Sathyaraju was five years old, Shravanamma came to fetch him and took him away with her to Bandarulanka to bring him up as her own son, as had been agreed to earlier. Six months later, Parvathamma came on a visit to Bandarulanka and as Sathyaraju wished to return to Adivarapupeta with his mother, the boy returned to Adivarapupeta with the consent of Shravanamma.
Childhood Days at Adivarapupeta
As mentioned earlier, Parvathamma was now living with her father, Goli Sathyam. Goli Sathyam was a poor man and with the added burden of having to support his widowed daughter and her children, he found it hard to maintain his family. Therefore, though Sathyaraju was enrolled in the local village school on his return to Adivarapupeta, he had to do his share of work at home also. The daily pattern of his childhood life during this period alternated between work and play. His day began at 5 a.m.; after a bath and a light breakfast of curds and rice, he worked at the looms up to 10 a.m., dexterously weaving cloth in vivid hues, which was a specialty of their family. After a hurried lunch, he would attend school between to a.m. and 4 p.m. When the school was over, the boys went out to play, until they were called home for dinner, which was around 6 p.m. After the evening meal Sathyaraju would sit with his maternal grandfather, Goli Sathyam for an hour or more and tell him all that had happened during the day. Goli Sathyam listened to the boy's account with interest and also availed of this opportunity to impart valuable advice and instruction to his grandson. Thereafter, around 7 p.m. Sathyaraju would join one of the many Kirtan parties, if they happened to be holding a Kirtan, or he would go out again to play with his friends. At this time of the day the boys would often learn and practice the use of the sword and the lathi, and Sathyaraju proved to be one of the most avid and proficient pupils in this ancient art. Finally, around 10 p.m. the boys used to go to bed. It was indeed a hard life, particularly for a young child who was barely six years old, but it was no different from the life followed by the children of the poor in the most of India's innumerable villages. It was the penalty that had to pay for their poverty.
While poverty has been endemic in India for centuries, it has failed to corrupt or degrade the poor of our country. In fact in rural India, where the poorest of the poor of India live, we often find qualities of character which are conspicuously absent in the more prosperous cities. Thus, though Goli Sathyam was poor, he was a spirited old man with a deep sense of honour and self respect. He would repeatedly counsel the members of his family, and particularly the children, that: "poverty, though unfortunate, is not a sin and hence nothing to be ashamed of. One should never beg or be dependent on others, nor be under any obligation to anybody else. One should live honorably and by honest means, even though such a way of life may be more difficult to follow. Insincerity and falsehood must be shunned at all costs". Sathyaraju loved and respected his Grandfather and as we have already related, he would spend some time every evening in the company of the old man, listening with rapt attention to his worldly wise advice and exhortations. During these sessions, the impressionable young mind of Sathyaraju would soak up the wise counsels of his grandfather and thus Goli Sathyam came to exercise a beneficial and lasting influence on the views and character of his favourite grandchild.
Grandfather's Influence
Sathyaraju adored his Grandfather and Goli Sathyam in turn deeply loved Sathyaraju and predicted a bright future for him. As time went by Sathyaraju came to treat his Grandfather as his most trusted confidant; he would scrupulously abide by the counsels given to him by this Old Man and would unhesitatingly carry out his directions. An interesting example of this can be seen in the following story: Sathyaraju was sent one day to Ramachandrapuram for some work. When he was leaving, his Grandfather told him that though they had many relatives in Ramachandrapuram, they were all likely to show scant courtesy and regard; he should therefore, conduct himself with dignity in their presence and should not visit their homes unless invited to do so. Now it so happened that it was nearly 11 o'clock at night by the time. Sathyaraju was able to finish his work. In the normal course, he could have gone to the house of anyone of his relatives for the night where he would have been assured of a good meal and comfortable bed. However remembering his Grandfather's counsel, the boy who was barely eight years old at that time, chose to spend the night in the verandhas (portico) of a closed shop, regardless of the inconvenience and discomfort this entailed. and came back home early next morning. When he related this to his Grandfather on return, Goli Sathyam was very happy at the nerve and resolve shown by Sathyaraju and he was reassured more than ever before, that his grandson had a bright future ahead of him.
Sathyaraju Goes to Live with His Step-Mother
In January 1943, when Sathyaraju was in his eighth year, his Step-Mother Shravanamma came on a visit to Adivarapupeta and with the concurrence of Parvathamma and Goli Sathyam she took Sathyaraju with her. At his new home at Bandarulanka, Sathyaraju was admitted in the local village school and he soon established himself as the leader amongst the boys of his group.
Sathyaraju was keen on his studies and proved to be a bright student. However. a promising academic career was cut short when his Step-Mother abruptly decided to withdraw him from the school. Sathyaraju resented this as he was eager to continue his studies but his Step-mother refused to oblige on the plea that she needed his help at home as she was unable to manage her affairs on her own. Sathyaraju soon realised what this 'help' to his Step-Mother meant. He would be awoken early in the morning and set to work to weave cloth; the work quota assigned to him by his Step-Mother was to weave half a saree every day. It must be remembered that Sathyaraju was barely eight years old and working long hours on the primitive and heavy loom imposed a heavy physical strain on the body. As soon as he finished his quota of weaving, Shravanamma would send the boy to the market to buy cotton, or to sell the finished produce of cloth. When he returned from these assignments, he was set to work on house-hold chores. Thus Sathyaraju had to slave for his Step-Mother all day long, nor would she allow him to go out and play with other boys as he did at his native village, Adivarapupeta. That apart, Sathyaraju was in the habit of eating 5-6 times a day and Parvathamma made sure that her children got nourishing and wholesome food. Shravanamma on the other hand, though comparatively much better off, was very niggardly in the matter of food; Sathyaraju had to be content with a light breakfast and two main meals a day and these too were far from substantial. As a result Sathyaraju often remained hungry. The hard work, coupled with inadequate nourishment, led to a marked deterioration in the physical condition of the boy.
Notwithstanding all these troubles Sathyaraju continued to work devotedly for his Step-Mother. However, he was not at all happy and often yearned to return to his Mother and Grandfather al Adivarapupeta. Now it so happened that Shravanamma, unknown to Sathyaraju, had been secretly carrying on an illicit trade in opium. One day, the officials of the Excise Department were lipped off that Shravanamma was in illegal possession of 40 tolas of opium and that she was keeping this hidden in her house. So a search warrant was taken out and a party came to search her residence. In the meanwhile. Sathyaraju got wind of this through some of his friends; he rushed home and informed his Step-Mother about it and asked her point blank whether it was a fact she had this opium hidden in the house. Thoroughly frightened by now, Shravanamma admitted her nefarious activities and showed Sathyaraju where she had hidden the opium. Sathyaraju quickly removed it from the house and so when the search party came, they could find nothing. Though he thus saved his Step-Mother from arrest and humiliation. Sathyaraju was mortified to learn from what his Step-Mother had herself told him that she was, in fact, indulging in dishonest trade practices. He severely castigated her for this and threatened to leave her and return to Adivarapupeta if she did not give up these activities. She appeared to relent and promised to give them up, but this was only a passing phase; Sathyaraju soon discovered that his Step-Mother had gone back to her old ways and was continuing her illicit trade in opium. Seeing that she was incorrigible Sathyaraju refused to stay with her any longer. Shravanamma too had begun to be irked by Sathyaraju's constant criticism of her illicit trade practices and so when the boy sought her permission to return to Adivarapupeta, she readily consented.
Return to Adivarapupeta
Sathyaraju had stayed barely 5 months with his Step-Mother. Though this had been in many ways a trying period, it was not entirely wasted. Shravanamma had good business acumen and with his keen intelligence and observant nature, Sathyaraju managed to gain useful experience in the conduct of business, particularly in buying and marketing of produce. As a result of this experience he became convinced that it was only by taking to business that he and his family could hope to break the shackles of poverty which had bound them for generations. Therefore, though he had been fond of studies and an eager student earlier, he did not rejoin school when he returned to Adivarapupeta. Instead, he decided to devote all his time and energies in helping his family to earn a decent livelihood. He would put in long hours of work at the family looms and though Goli Sathyam kept a watchful eye to make sure that his young grandson did not overstrain himself, Sathyaraju nevertheless managed to put in extra hours of work on the quiet. He would take the finished produce and sell it in villages and markets further afield where he managed to get a better price. He would then hand over the proceeds from his labour to his Mother and Grandfather. During the summer months, he would attempt to earn extra money by selling sherbet and aerated cool drinks. Thus the compulsions of poverty forced Sathyaraju to work hard to earn a living when other, more fortunate, boys of his age normally went to school or indulged in carefree play. But this is not to say that it was a case of all work and no play. Sathyaraju was an active and intelligent boy who had been good at studies and fond of games. Though he had to perforce give up studies after his eighth year, he continued to participate in games and play along with other boys of his age, and excelled them all in feats demanding skill and athletic prowess. From the early age of six, he learnt and daily practiced the use of the sword and the lathi for offensive and defensive purposes. He had also acquired a reputation amongst his playmates and with the elders of his village for his fearlessness, his bold outspokenness and his deeply ingrained sense of fair play and justice. All these qualities combined to make him a natural leader of the boys of his village. At the same time he was feared and resented by those who were hypocritical or deceitful in their ways because they often became the targets of his ridicule and public exposure.
There is an interesting story of this period which aptly illustrates Sathyaraju's uncompromising devotion to truth as also his fearlessness. Sathyaraju's uncle, who was a powerful and respected man of the village and the head of their family and community, had become attached to a sadhu whom he later accepted as his Guru. Now this sadhu was a boastful and pompous fellow who threatened dire consequences to anyone who crossed his path; one of his constantly repeated threats was that by his curse he would transform any erring mortal, who wittingly or unwillingly incurred his wrath, into one or the other of some low animal species. The simple village folk readily believed this and hence they went about in awe and fear of this angry old man. Naturally, Sathyaraju took an instant dislike to this sadhu for his pompous and bellicose manner and his angry threats; he was convinced in his own mind that the sadhu did not possess any of the powers he boasted of and so he secretly resolved to expose him. One day, when everybody was seated in the presence of the sadhu and he was holding forth in his usual boastful manner, Sathyaraju asked the sadhu what he (the sadhu) would do if some one were to pinch any of his things; "I will turn him into tiger", said the sadhu promptly. Thereupon, Sathyaraju pretended to express awe and wonder, but remained quiet. A short while later, the sadhu happened to go out and, finding himself alone in the Sadhu's room, Sathyaraju quickly took his bow and arrows and hid them on a ledge just above the place where the Sadhu normally slept; he then sneaked out unnoticed from the room. When the Sadhu returned, he found his bow and arrows missing. Enquiries were made and a search conducted but they could not be traced. Now the Sadhu lost his temper and began raving and ranting about what he would do to the culprit. Sathyaraju, who was an interested spectator of the whole scene, suggested in a seemingly innocent tone that the Sadhu, by his powers, should be able to locate both his missing bow and arrows, as also the culprit. This only enraged the Sadhu further and Sathyaraju was quickly hustled away by anxious relatives lest the Sadhu pronounce a curse on him.
Awed by the Sadhu's terrible anger and somewhat anxious by now as to what might happen to him, Sathyaraju ran straight to his Grandfather and told him in all innocence: "I have hidden his bow and arrows, if the Sadhu turns me into a tiger then people will hunt me down and kill me, so lie me up inside". Goli Sathyam could not help being amused; he told the boy not to worry, and to wait and see what happens. Thus re-assured by his Grandfather, and seeing that nothing had happened to him even though some considerable time had elapsed, Sathyaraju became firm in his original conviction that this Sadhu was a hoax. After sometime he presented himself before the Sadhu and, with not a little trepidation told him in the presence of the usual gathering of his admirers, that he had hidden the Sadhu's bow and arrows (he showed him the hiding place) and, to the astonishment and horror of his relatives, he now challenged the Sadhu to transform him into a tiger, as he had been threatening to do all along. The Sadhu fretted and cursed, but Sathyaraju boldly stood his ground and nothing happened to him. Sathyaraju was soundly belaboured by his uncle and others for his undecorous behaviour, but he had proved his point. This Sadhu never again made such boasts, nor did he ever succeed in terrorizing the villagers again.
With the Step-Mother again
Sometime in the year 1947, when Sathyaraju was in his twelfth year, his Step-Mother fell seriously ill. As she was bed-ridden and needed to be looked after, she sent for Sathyaraju. Accordingly, Sathyaraju left for Bandarulanka and nursed his Step-Mother on her sick bed. She soon recovered but in spite of promises to the contrary, she once again started indulging in illicit opium trade. Though she tried to conceal this from her step-son, it did not take Sathyaraju long to discover her clandestine activities and, as before, he expressed his strong disapproval. This led to friction and tension between mother and son, which was aggravated by other incidents of a similar nature. The matter came to a head one night when Shravanamma, while serving food to Sathyaraju, spoke to him harshly about a particular incident, severely criticising him for his conduct. Sathyaraju was cut to the quick by his Step-Mother's unjustified abuse. He immediately got up, leaving his meal unfinished and announced that he was leaving for Adivarapupeta that very instant. At the same time he vowed that he would never again set foot in his Step Mother's house. He collected his belongings and came out but as it was raining heavily, he decided to wait until the morning. However, as he had vowed never to re-enter his Step-Mother's house, he resolved to spend the night in the verandah only. Shravanamma by now had relented; she came out, asked Sathyaraju to forgive her and requested him to come in and sleep comfortably in his room. However, Sathyaraju refused to be persuaded and in reply to his Step-Mother's importunities, he simply reiterated his resolve to never again set foot in his Step-Mother's house.
Sathyaraju leaves his Step-Mother's house for good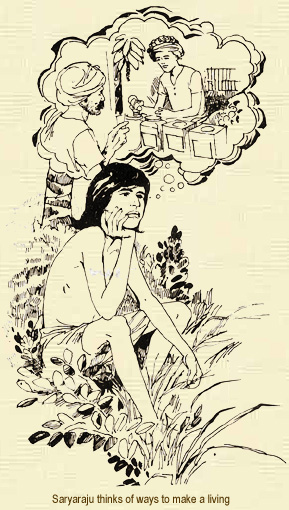 Early next morning, Sathyaraju set off on foot for Adivarapupeta. As he neared the Godavari River, he suddenly realised that he had no money to pay for the boat fare. There was no question of turning back at this stage and so he racked his brain for a solution to this problem. On an impulse, he took off his shirt and decided to offer it to the boatman as payment for the boat fare. Just then, as luck would have it, he found a one anna bit lying on the road. This was the exact amount required for the boat fare and relieved now of his anxiety in this regard, Sathyaraju proceeded happily on his journey.
Sathyaraju was well aware that apart, perhaps, from his Mother and Grandfather, his other relatives would not approve of his having left his Step-Mother to return home again. So, instead of proceeding direct to Adivarapupeta, Sathyaraju went first to Draksharam. He reposed great faith in Bhimeshwara Mahadev, the presiding deity of Draksharam and was deeply devoted to Him. It was natural, therefore, that he should turn to his 'Ishta Deva' in this hour of need. He came and stood before the Bhimeshwara Lingam and silently prayed to the Lord that his relatives would understand the reasons that had compelled him to leave his Step Mother's house. Satisfied that the Lord had listened to his prayer, he then proceeded to Adivarapupeta. As he had anticipated, his uncle and other relatives were very annoyed when they learnt that he had left his Step-Mother and come back. He was summarily ordered by them to return to Bandarulanka and to live with his Step-Mother in fulfillment of his father's pledge to her. However, he fortunately found an ally in his Grandfather, who after listening to the entire account, decided that Sathyaraju had done well to leave his Step-Mother and come away. Thus with the backing and support of his Grandfather, Sathyaraju was able to counter the pressure being put on him by his other relatives. Shortly after his return, Shravanamma also came to Adivarapupeta and pleaded with Sathyaraju to return, but no amount of persuasion or threats could move him to go back on his vow to "never set foot in her house again". Gradually, the pressure for his return to Bandarulanka died down and he was able to live in peace at Adivarapupeta.
A Business Venture: the 'Beedi' Shop
One of the driving ambitions of Sathyaraju's life even at this young age, was to redeem his family, and particularly his Mother, from the clutches of poverty. He soon realised that the traditional family vocation of weaving would never bring him the riches that he dreamt of; in fact, in spite of hours of daily slaving at the looms by all members of the family, including even the children, the family was barely able to earn enough money to ensure a subsistence level existence. Sathyaraju had pondered often on this problem, and as mentioned earlier, he had realized at a very early age that business was the one vocation that promised quick and adequate returns. With this at the back of his mind, he was constantly on the look out for an opening to launch a business venture. When he returned this time from Bandarulanka he learnt that one of the boys in the village had opened a 'beedi' shop on a capital outlay of just Rs. 25/-, and his business was visibly prospering. This gave Sathyaraju the idea of himself opening a similar 'beedi' shop and, as was his practice, he discussed this proposal of his with his Grandfather. Goli Sathyam, however, was not pleased with this idea because he felt that running a 'beedi' shop was not a dignified vocation for a member of his family. He told Sathyaraju that if he wanted to do business, he should plan to become a cloth merchant, which would be a more befitting profession for a member of the Devanga Community. In fact, he told him, this was what he had all along planned and hoped for, whenever he thought about his grandson's future career.
Sathyaraju greatly respected his Grandfather's views and opinions and this unexpected opposition from him proved to be a damper on his immediate plans. However, notwithstanding his Grandfather's disapproval, Sathyaraju did not entirely give up the idea of starting a 'beedi' shop and he would often be pre-occupied with thinking about and planning this pet project of his. One day, absorbed in such thoughts, he was walking along when he suddenly espied a copper coin lying on the wayside. Now finding a copper coin in this manner is considered to be a sign of impending good fortune and taking this to be a propitious portent, he picked up the coin, pressed it reverently to his eyes and proceeded to join his playmates for a game of marbles. Whether it was the influence of the copper coin or just his luck, Sathyaraju proved and unbeatable that day. By the time they finished play, Sathyaraju had won marbles worth Rs. 5/-. He sold the marbles forth at amount and pocketing the money, he made straight for the shrine of Bhimeshwar Mahadev at Draksharam. Bowing before his "Ishta Deva" with devotion he fervently prayed to the Lord to grant him success in his proposed venture to start a 'beedi' shop. He then returned and with this initial capital of Rs. 5/- he started his beedi business. His business prospered from the very start and he was soon making more money than he ever had through weaving. What is more the rival beedi shop, for some reason, was forced to close down and all that custom was also transferred to Sathyaraju 's shop. He started making good profits and he regularly deposited the proceeds from his shop with his Mother and Grandfather, which pleased them immensely. The objections and reservations that Goli Sathyam had earlier voiced to the selling up a 'beedi' shop, were soon forgotten. Sathyaraju, of course, was highly pleased with the success of his venture and he began to make plans to further expand his business. And so time passed happily for the boy and Sathyaraju soon entered his fourteenth year.
PREVIOUS CHAPTER │ TOP OF THIS CHAPTER │ NEXT CHAPTER