PROGRAMS HOME PAGE | PREVIOUS PAGE | NEXT PAGE
"Prashad is what the guru gives the devotees. It is food that the guru has blessed. When you go to your mother's house, does not your mother feed you? What your mother gives you is just food. What Swamiji gives you and what the guru gives you is prashad."
Read more about what Shivabalayogi had to say about Prashad.
Individual Darshan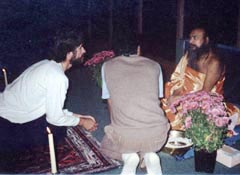 After the program's bhajans, there was an opportunity to go up to Swamiji individually, ask for blessings or ask personal questions, or simply bow. Swamiji was patient and gave everyone an opportunity.
Swamiji listened patiently to each individual's complaint or petition. He specially blessed vibhuti to respond to each individual's request, and asked his attendant to give the person the vibhuti, together with directions on how that vibhuti is to be used.
The vibhuti would work if used as directed. Faith, said Swamiji, had nothing to do with it. Use of the vibhuti as instructed by Swamiji has resulted in thousands of miraculous cures of physical and mental ailments. There are innumerable cases on record of patients who had not responded to normal treatment and whose disease had been pronounced incurable by medical practitioners, but whose health was fully restored through use of vibhuti given by Swamiji.
Devotees also approached Swamiji with all types of personal problems, seeking his advice and blessings. Swamiji rarely advised such people to follow or not follow a particular course. He typically told them to make up their own minds and gave them his blessing, often in the form of vibhuti.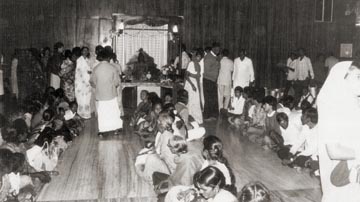 Above: Prashad being served in Swamiji's presence, at the meditation hall of the Bangalore ashram. Below: Annadanam at the Bannerghatta Road ashram, Bangalore.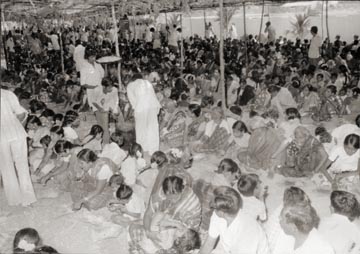 Prashad, Blessed Food
Annadanam, the gift of food, has been a tradition in India from time immemorial. The giving of food to a needy person is seen as the greatest of charities, and it is the duty of householders never to turn a hungry person away. Most great saints appear to derive immense pleasure and satisfaction from feeding others, whether they be devotees and disciples or simply poor people in need of a hearty meal.
In the case of Shivabalayogi, feeding devotees and the general public has always occupied a special place in the scheme of his spiritual service. Mass feedings became a regular feature of Swamiji's ashram since the very early days of his tapas and this practice still continues. particularly during special functions such as Mahashivaratri, Swamiji's birthday, and the anniversary of his tapas. Read more about such functions where all are invited to partake of the prashad.
At most public meditation and bhajan programs in the West, prashad was given to everyone in attendance. Immediately after bhajans, trays of fruit, nuts, or sweets were offered to Swamiji who blessed the food, transforming it to prashad. The food was then distributed. Anyone who spent time with Swamiji knew how he enjoyed feeding devotees wherever he went. He would say that he is like a mother to us.