HIS LIFE HOME PAGE | PREVIOUS PAGE | NEXT PAGE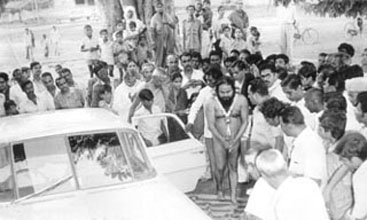 Nothing for Himself
When Shivabalayogi completed twelve years of tapas, meditation in samadhi, he had an experience which he later described in terms of a conversation with his Divine Guru, Lord Shiva. The Inner Guru offered to grant the yogi any boon that he desired. The yogi wanted nothing for himself.
"I did not do this tapas on my own. You made me do this. Tell me why you made me do this tapas. Tell me what you want me to do henceforth. If you do not want me to do anything in particular, then I will return to my old life."
Lord Shiva instructed Shivabalayogi to use the powers attained through his tapas (tapas shakti) to awaken people to their inherent spirituality. He should travel and give public darshan (the blessings and transformation evoked by a powerful spiritual presence).
Dhyana, Vibhuti, Bhajans, Bhava Samadhi
For three decades Shivabalayogi traveled throughout India and Sri Lanka. Beginning in 1987, he toured the United Kingdom and the United States. Everywhere he gave public programs consisting of initiation into dhyana meditation and an hour of meditation practice followed by bhajans, spiritual song. He gave darshan, initiation, vibhuti (ash imbued with powerful spiritual vibrations) and bhava samadhi (divine trance). For a description of his public programs, see Shivabalayogi Programs.
More on Dhyana Meditation
Shivabalayogi's own words on
Meditation
in his 1981/92 biography
by Gen. Hanut Singh
More on Shivabalayogi's use of spiritual trance (bhava samadhi):
His own words on
Bhava Samadhi
in his 1968 biography
by Prof. S. K. Ramachandra Rao
in his 1981/92 biography
by Gen. Hanut Singh

and in the bhava samadhi pages at Shivabalayogi Writer's Corner.
Ashrams
Ashrams were donated to him throughout India. The largest and most accessible ashram is in J. P. Nagar in Bangalore. Others include Dodballapur, Lake Sambhar, Dehradun, Anantapur, and Hindupur. The first ashram, the mother ashram, is in his native village of Adivarapupeta. It is where he sat for almost ten of his twelve years of tapas. It is where his sacred body is interred.
Shivabalayogi: His Work Video