His Presence Today | PREVIOUS PAGE
Shivabalayogi's successors are his devotees.
Each is blessed with his presence.
"Swamiji is always traveling. He has millions of devotees and he has to be with everyone. He will be going around and around. Whenever you ask for him, he will be with you. If you ask for his darshan he will come to you. Otherwise, he will just be going by to another devotee. Whoever calls om, suddenly he will go there. If ten people call, Swamiji will go in ten astral bodies."
Early Tapaswins
Shri Swamiji initiated several devotees into tapas, two of whom meditated twelve continuous hours each day for many years. Sathya Shivabalayogi, better known as Kondangi Swami, successfully completed twelve years of tapas on August 7, 1977. A young woman became known as Shrungavriksham Swami after she meditated in tapas for twelve years ending in 1974. Both these tapaswins have since departed this life. Both served to bring meditation and Swamiji's blessings to the public.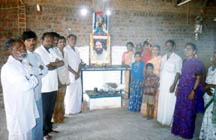 Ashrams, Groups & Centers
Other devotees meditate and work with little personal recognition but immense effect. Devotees in Adivarapupeta have been consistently active since Shri Swamiji's mahasamadhi, holding the annual Mahashivaratri celebrations when devotees from around the world gather. This was the annual occasion when Shri Swamiji himself would attend, returning to the village where he was born and completed his twelve-year tapas. Read more about Mahashivaratri in Adivarapupeta.
The Adivarapupeta ashram is the scene of major development since Shivabalayogi consecrated the foundation of a new temple shortly before his mahasamadhi. The Adivarapupeta trustees and devotees have constructed the temple, a large guest building, new kitchen, storage and office facilities, and are now working on completion of the new Samadhi building. More information at Adivarapupeta ashram.
The Bangalore ashram at J.P. Nagar is the largest and most accessible of Shri Swamiji's ashrams in India. It is also where His Holiness spent most of his time after completing tapas and before his mahasamadhi. It is in Bangalore where Shri Swamiji used to be when devotees celebrated his birthday (January 24) and tapas anniversary (August 7), and these celebrations continue to this day. More information at Bangalore ashram. Read more about Shivabalayogi functions.
For many decades, devotees in Jhansi, north India, have been celebrating Shivabalayogi's birthday with a huge bandhara (annadanam) — mass feeding. This is the largest, regular mass feeding done in Shri Swamiji's honor other than by the Trusts in Adivarapupeta and Bangalore. For decades, many thousands of people were fed through the efforts and donations of individual devotees. Only recently, since Shri Swamiji's mahasamadhi, have they established a trust to continue this annual work as well as regular meditation and bhajan programs.. Examples of the Jhansi devotees' annual invitations can be found on the Invitations page.
Only weeks before his mahasamadhi, Shivabalayogi predicted that his statues would be installed throughout the world. A recent example is the consecration of a statue of Swamiji at the Arunachalananda Seva Center, Tucson, Arizona, U.S.A., opened on the occasion of Swamiji's 74th birthday.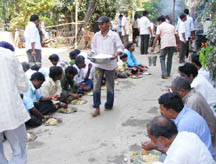 Other examples include devotees at Swamiji's ashrams in India, and centers scattered throughout Europe, Asia, Australia and America. A list of Shivabalayogi Ashrams & Centers can be found at the Shiva website and additional list of devotee contacts at the Meditate-Shivabala website.
Shri Swamiji's successors can be found throughout India, the United States, England, Sri Lanka, and many other countries in the world.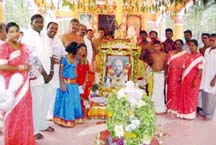 Another Forty Years
In 1994 on the occasion of his fifty-ninth birthday, a few months before he dropped his own physical form, Shivabalayogi predicted that he would be around to cut birthday cakes for another forty years.
At the time, devotees took that to mean that he would remain in his own body until age ninety-nine, but that was clearly wrong. After his mahasamadhi, many thought that Swamiji was referring to his presence in bhava samadhi.
Time passes and more and more people learn about Shivabalayogi who did not know him directly. They learn through the experiences and perspectives of those who did, particularly those who present themselves publicly as continuing Shivabalayogi's mission. It may be some forty years when the last devotees with direct knowledge complete their lives. Perhaps that is what Shivabalayogi referred to.
"You are with Swamiji now and know the truth, but after I am gone people can say whatever they want about Swamiji."
"Take Swamiji himself. Swamiji has come to your house in America. After another sixty or seventy years you might say that Swamiji was born in this house. You will remember all these people having their food here and you will say that you were celebrating Swamiji's birthday, that is why you were celebrating here. What do you have to say about that?"